Stair Lift, Power Wheelchair Lift, Patient Lifts, Lift Chairs & more for Meridian, Clark, Wayne, Newton, Kemper, Lauderdale County, Scott, Leake, Neshoba & surrounding areas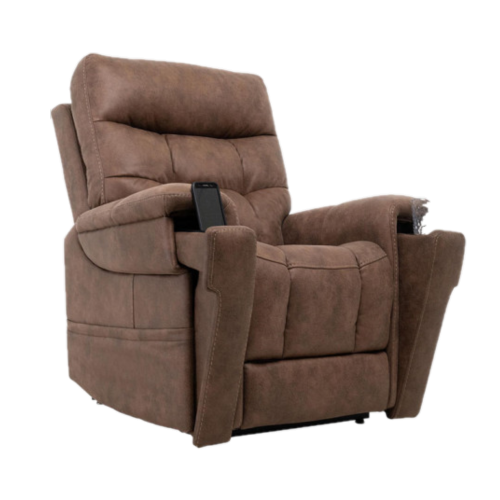 Lift Chairs / Mobility Aids
Affordable mobility solutions can mean the difference between living independently at home and staying in a specialized care facility. That's why Queen City Medical takes great pride in serving you with the equipment necessary to stay safe, comfortable and self-sufficient.
Lift Chairs
Lift chairs help you easily transition from sitting to standing with just a touch of a button. Today's selection of lift chairs is not only functional, but they're comfortable and stylish too! Choose from an array of designs and fabrics, special features, and more.
Pride Mobility: If you're searching for a power lift recliner that is the ultimate in style and performance, look no further than Pride Power Lift Recliners. Pride's power lift recliners are designed to be a functional and fashionable part of your home décor. Each lift recliner is built for quality and reliability, so you can enjoy it worry-free for many years to come.
Golden Lift Chairs: If you're looking for a lift chair to spend most of your day and night in, or a chair that will rejuvenate you after a long day at work, look no further than the MaxiComfort Cloud – the most comfortable chair Golden has ever built!
Stair Lifts
For those who have difficulty climbing stairs, the task can be wearisome and dangerous.  Count on Queen City Medical Equipment for the latest in state-of-the-art stair lifts. We'll come out to your home, and provide you with details on all the available options based on your home's layout and your budget. Plus, we offer complete installation. So you can be assured that the job is done right the first time, every time!
We carry a variety of top, quality brands, so you are sure to find the perfect solution to meet your needs and fit your budget.

Custom Lifts for Vehicles
Did you know that Queen City Medical Equipment offers custom lifts for vehicles? We can outfit your vehicle with the perfect lift for your particular mobility equipment, including the Outlander from Pride. The Outlander Exterior Lift was designed to provide a durable, easy-to-use system to take your scooter with you. Simple hitched-based installation requires little to no modification to your vehicle and allows for easy removal. It can lift a wide variety of Pride Scooters and other manufacturers' mobility devices, while its shock-absorbing "cradle effect" protects scooters from jarring vibrations. The optional Swing-away Adaptor allows the lift to be easily pivoted away from the vehicle for easy access to the trunk, lift gate or tailgate. Contact us to learn more about the Outlander Exterior Lift from Pride and all of our custom vehicle lift options.